Being from New York I might be biased but this city has some of the most incredible food on the planet. I have been exploring New York City for as long as I can remember and the food you can find here is unlimited. Growing up in an Italian home I have a taste for all three food groups, meat, cheese and pasta.  If you plan on visiting I hope you treat yourself to one of these suggestions!
The Meatball Shop


As a rule, I don't go out to eat for spaghetti and meatballs due to having the greatest Italian cooking right at home. Between my mom and grandmother I grew up knowing the best but the Meatball Shop by far is the closest I have found to their cooking. The menu has a variety of different pastas and specialty meats to choose from. I have only been to the location in Williamsburg, Brooklyn but do know they have multiple locations in Manhattan as well. They also have merchandise that just says, "Balls." Which is intriguing on its own. 
Prince Street Pizza


My sister and I discovered Prince Street Pizza the last time we visited New York. I am not exaggerating when I say this is the best pizza I have ever tasted in my life. This is a huge statement from someone who regularly eats pizza once or seven times a week. We waited for about 30 minutes and we might have ate it sitting on the ground but it was 100% worth it. Prince Street is located between the Soho and East Village area so make sure you stop by! The pizza pictured is the Original Soho Squares.
A Damn Nathan's Hot Dog!


This should go without saying, but if you visit New York you need a street hot dog. Its cheap and delicious! My favorite place to do this is right outside Columbus Circle. Take it with you as you walk through Central park you will forget all about the calories you're consuming! I will update with more photos the next I visit. 
3 PLACES TO DRINK COFFEE IN BROOKLYN 
One of my favorite parts about New York is that there will always be a new coffee shop to try. I visited all three of these coffee locations the last time I was there. My sister and I spent most of our time in the Brooklyn area so it was easy to walk to different places from each spot. Brooklyn has a wide range of coffee ambiences so if you're a coffee lover like me, make a day for coffee touring. Enjoy the caffeine buzz! 
Bakeri was the first coffee shop we visited on this particular trip, 
we arrived around 9am and it was strangely quiet for a New York coffee shop. We were able to sit outside and enjoy the peace of the Williamsburg area. If you explore Manhattan at any time you will not get this quiet scenery in the morning. From what I remember the latte was delicious and not overpriced!
This place might be my first recommendation for Brooklyn Coffee. Sweatshop is located in a busier area of Williamsburg so there is some more foot traffic. This shop has a minimalistic vibe and was quiet with people working. On most days I prefer shops like this rather than a social atmosphere. Somehow we were able to sit outside under their well-known sign, 
"Don't look for love, look for coffee". In all honestly this is what pulled me to visit but their coffee was equally as enjoyable. They also took the time to give us some nice latte art, which really makes the experience better.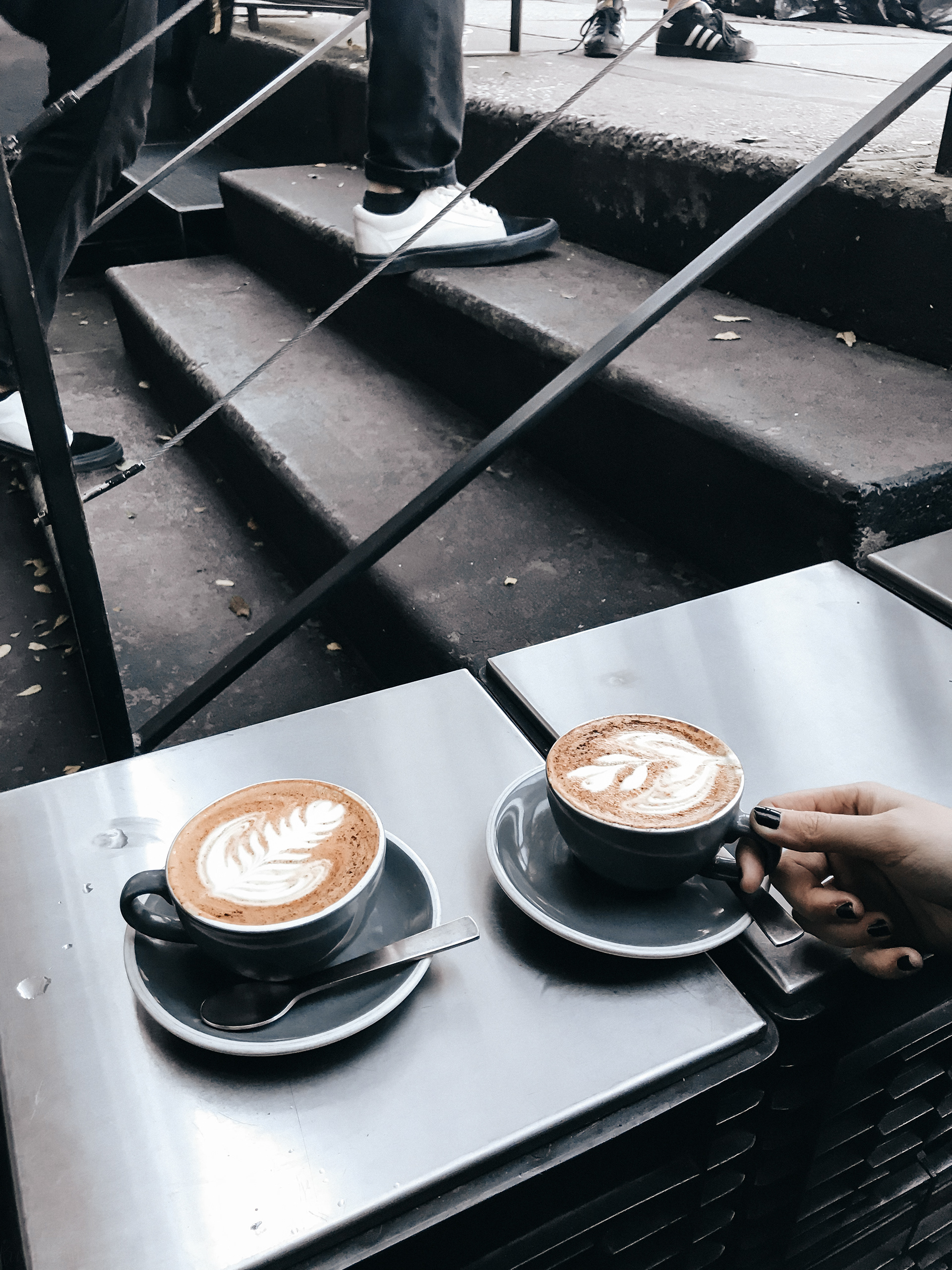 Ludlow is a quaint coffee shop that I absolutely loved. The interior design intrigued me from photos before we arrived. My sister and I were the only ones there when we went so it was quiet and a great environment to work in. There was multiple window seating spots which is one of my favorite parts about this coffee store. The coffee was decent and well priced. This was also my third cup of coffee in a matter of four hours so I wasn't tasting much at this point. I will definitely be back here the next time I visit. 

​​​​​​​